Protection, safety, hygiene of application – these are the essential features of a good packaging product
2018-07-26
Some time ago we wrote about the properties of packaging products that make them stand out and catch the consumer's attention. We mostly focused on their appearance – the right choice of colours and the details typically included on the product packaging (click here to read that article). Today we address the features of cosmetics packaging products that are not so apparent, yet are nothing short of critical for the packaging product's ability to meet all essential requirements and serve its purpose – which is to protect its contents and ensure proper hygiene when used.


Searching for the right packaging for a specific cosmetics product is often a complex and time-consuming process. The packaging needs to meet a number of technical requirements, successfully pass all use tests and have the desired attractive appearance. One of the more important criteria for its selection is whether it provides the right level of protection to the precious contents and preserves all of their properties for as long as possible. In order to verify this, packaging components undergo a series of lab tests, e.g. ones that check if the contents react chemically with the packaging material, or estimate the expiry date of a specific beauty product. Correctly selected packaging should be airtight to protect the contents from such environmental factors as UV radiation, oxygen, or contamination with any kind of pathogen, so as to preserve all the properties of the cosmetics product inside until the last portion of it has been dispensed. Speaking of dispensing – good dispenser design cannot be underestimated. The key operating principle for any type of closure, whether it's a pump or another mechanism, is that it should not allow any germs present in the environment, e.g. resident on the surface of the skin, to enter the packaging while the contents are being applied. Although the vast majority of packaging products provide the required level of protection, it should be remembered that some of them have been developed with that aspect especially in mind.


A nail pump is a good example: its unique design, which includes a small, nail-sized disc that dispenses the product, does not make contact with the skin of the user's hands, as the cosmetics contained in that type of packaging are intended to be applied indirectly, e.g. onto a cotton pad. It is a popular type of dispensing closure, commonly used for nail polish removers, tonics, micellar lotions, and other facial cleansers in thin liquid form. You can find a nail pump model in our product range, readily available in stock. Please try it out!


Pipettes are another example of highly protective and hygienic dispensing closures. Small and precise, they are perfect for all kinds of oils, serums, gels etc., as they make it easy to apply an optimal amount of the product directly onto the skin while not actually touching it. The pipette-applied cosmetics product is then typically massaged into the body with the fingertips. Pipettes are often used as closures for bottles made of dark glass, which adds even more protection from UV radiation, a feature of particular importance if the contents contain e.g. natural plant extracts.


Finally, wherever good isolation from the external environment is required, one should not forget about the benefits of airless packaging products, which find a multitude of applications in the cosmetics industry as a perfect container and closure solution for facial-care fluids, all types of body balms, creams and gels. In addition, airless packaging is one of the most exclusive and prestigious ways to deliver a cosmetic to the consumer. It communicates the quality of the product inside and visually enhances its value. Needless to say, Polpak Packaging offers it too and you can see the available models here.


Selecting the right packaging for your beauty product is half the recipe for success. The packaging plays an essential role at every stage of the product's life. Designed smartly, it catches the attention, makes your product easy to use and protects it up until its expiry date. It is therefore worth spending some time and effort trying to find the packaging product that will serve your product best. Click here to find some tips on how to find that perfect match.
We would love to know what you think. Please share your thoughts on our Facebook fan page or email us at marketing@polpak.pl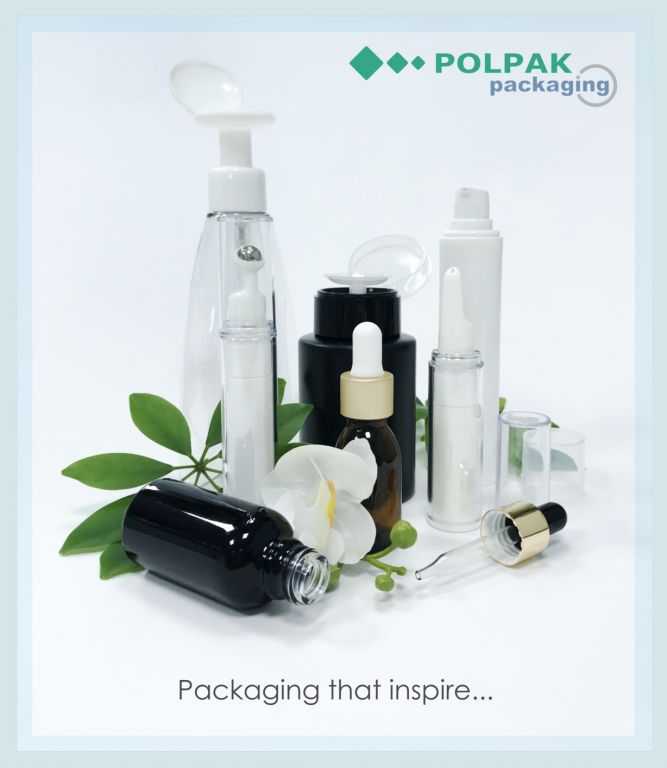 Other