We would like to invite you to the Packaging Innovations International Trade Show.
2018-03-09
It will be the tenth annual Packaging Innovations event, and will be taking place in Warsaw on 17 and 18 April. We will be delighted to see you at our stand, B9, in the Green Hall, where we are going to be presenting a variety of packaging closures and cosmetic packaging solutions.


This year's highlights will include products with a natural bamboo finish, perfect for all types of organic cosmetics. We will also be demonstrating how our innovative powder dispensers work, an innovation we have developed for the cosmetics industry and which we are excited to announce is also going to be used by food producers. In addition to that, we will be proud to show you a revolutionary packaging solution that reinvents how liquids are applied: the spraying bottle. We are positive it will be a breakthrough in how contents can be sprayed, thanks to its innovative mechanism that extends the product release time by dispersing it as an extremely light mist. The state-of-the-art technology, which enabled us to achieve such a broad angle of efficient dispersion and the increased nozzle pressure, ensures large areas can be covered with the liquid easily and quickly. We are proud to point out that the mechanism used in the sprayer bottle closure is not based on the conventional pressure generation solutions you find in commonly used mist sprayers. The complete product consists of two separate parts, which means it can be reused multiple times.
These are just a few of our new products. As you might expect, we will also be exhibiting our trigger sprayers and foam trigger sprayers, nail pumps, mist sprayers, airless packaging products, cosmetic jars, droppers and countless other types of packaging in interesting colours and with various adornments.
The Show provides a perfect opportunity to meet and chat about your future projects, innovations and the most recent style trends. Let's meet on 17 and 18 April in Warsaw at 12/14 Prądzyńskiego Str., the Green Hall, Stand B9!


You can obtain your free admittance badges here.


See you there!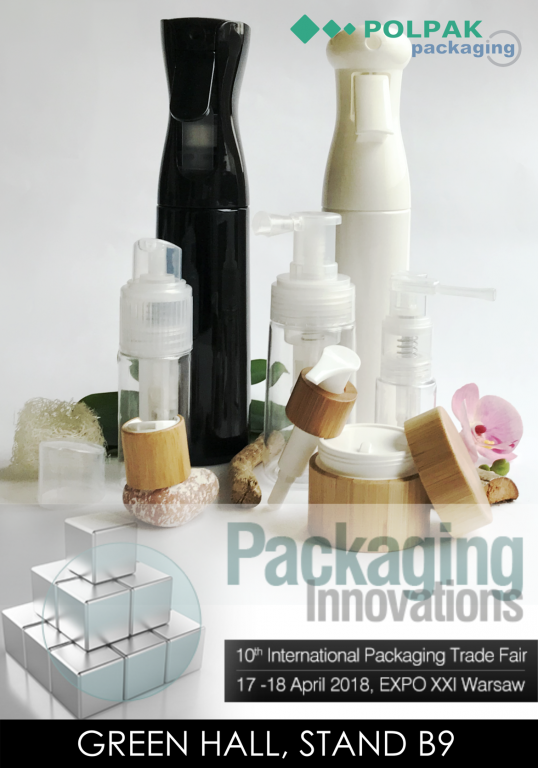 Other