We are really pleased to invite you to our fair stand!
2021-09-02
We are really pleased to invite you to our fair stand!
On the 15th and 16th September during Packaging Innovations International Packaging Fair, which will take place in Warsaw at ul. Prądzyńskiego in the main hall of EXPO XXI Exhibition Center.
You will find us at stand no. C17.

The second fair event which we would like to invite you to is CosmeticBusiness – the International Fair for Manufacturers to the Cosmetics Industry – in Munich.
On the 20th and 21st October, we will wait for you at D18 stand in hall no. 4 of the old "M.O.C." trade fair facilities in Munich.
We are happy that after the two-tear break caused by the pandemics we can participate in trade fairs again.
We are really looking forward to meeting our Clients and potential Clients, as direct conversations at our stand are really important to us. Although recently we have often seen each other online, we believe that getting back to classic face-to-face meeting is crucial. Casual conversations at the stand are not only an opportunity to discuss business topics, but also to get to know each other, have a coffee, and spend time together.
During these two trade fair days we will present to you our current offer of closures for packaging and cosmetic packaging.
At our stand, you will find:
Airlesses, droppers with bottles and jars constituting complete cosmetic packaging.
Mist sprayers, lotion pumps, mini triggers and caps – for the cosmetics industry.
As well as trigger sprayers and foam trigger sprayers for detergents!
What will be new is polyolefin heat shrink film whose possible applications will be discussed here or we will tell you directly about them at the fair!
See you in Warsaw and Munich!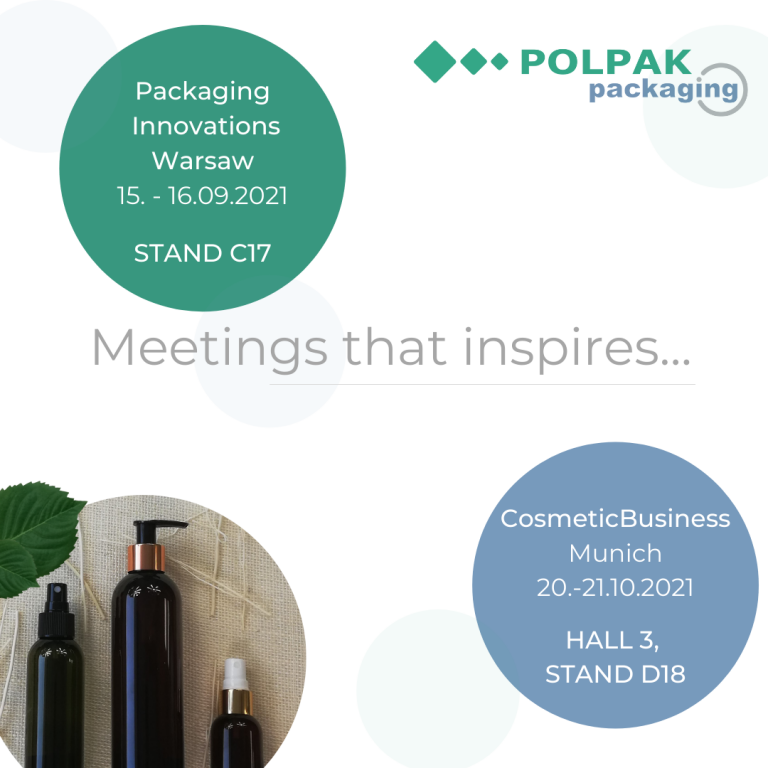 Other