Rise of the foam pumps!
2019-11-15
Rise of the foam pumps!
Light as a feather!
What comes to our minds when we think of chocolate mousse, meringue or Marshmallows? Lightness and treat for the palate. But foamy texture is not only desired in the kitchen – we also love it in cosmetics. We've always had hair styling or shaving foams, but recently foams have been gaining more and more popularity in other types of cosmetics: face, hand or whole body soaps, intimate hygiene products, care cosmetics for babies or small children, hair conditioners, shampoos, hair dye, as well as hand creams, body lotions, self-tanners or even face foundations.
Cosmetics manufacturers who dedicate their products to customers in need of effective, but gentle cosmetics, choose to offer them in the form of a foam.
Sensitive customers who know their skin or hair, are aware of the fact that heavy creams, lotions or nutrients based on oils may have the opposite effect to the one intended. Skin with clogged pores is deprived of contact with air has to battle not only the discomfort of itching, but also irritation and inflammation. Standard clean beauty products may not be effective with skin prone to allergies or sunburn, when the cosmetic should be lighter than water.
The lightness of the foam will be also suitable for hair as foam increases lightness and hair volume.

Our offer is tailored to your offer!
Our product catalogue includes classic foam pumps for bottles with 28, 30, 40 and 43 mm threads. They can be matched with bottles with different capacities, depending on the cosmetic type.
Beside classic pumps where the foam is dispensed onto a hand, we also offer pumps with silicone brushes. The cosmetic stays on the brush – the application may be combined with a pleasant massage. The brush makes the whole application more hygienic and sterile, as we don't spread germs from our hands to our face, and the silicone brush may be removed and thoroughly cleaned.

Foam invades garages!

Foam formula has been also appreciated by the car care products manufacturers.
Cleaning leather or alcantara upholstery requires not only special products, but also suitable dosages. With foam you can be sure that the consistency will not be too dense and it will not leave a greasy spot before it's spread with a brush or cloth.
What's more, the foam won't soak into the cleaned material or a sponge used for cleaning. When we clean the elements of the car's interior we also need one more thing: a silicone brush. Silicone brushes come as integral elements in some of our pumps. So you get a 2 in 1 product: a detergent and a tool.

Why the foam?

From talks with our customers we have learnt that there is quite a big interest in introducing cosmetics with foam pumps.
We always pay attention to the fact that beside the suitable cosmetic or detergent formula one must also add a foaming agent that ensures everyday foam lightness.

Efficient and ecologic

Our foam pumps D 3404-04 may be made in part of PCR – recycled regranulate.
If we add 15 or 30% PCR to the original material, the finished product will be fully stable and functional.

Another advantage of the foam cosmetics is that their dosage volume should be smaller than that of gels or creams, but visually and efficiently it's a lot bigger and equally effective!
Check our full offer and contact us!
We will be more than happy to answer all your queries and propose best solutions for your products.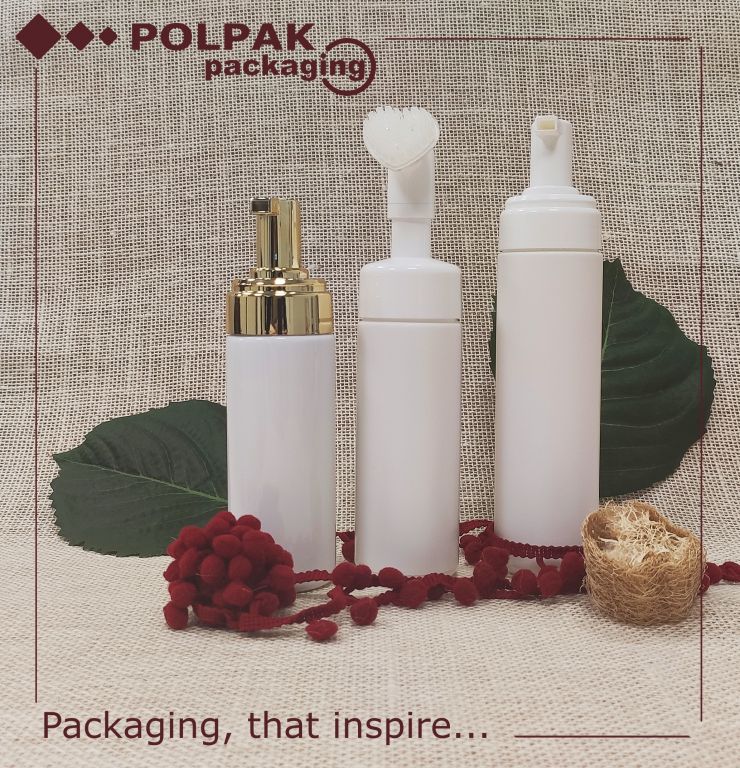 Other