Let's meet at the trade show in Warsaw!
2019-03-28
Let's meet at the trade show in Warsaw!
On 2nd and 3rd April, the Warsaw exhibition and trade centre EXPO XXI is hosting another annual Packaging Innovations event, an international trade show for the packaging industry that Polpak Packaging is definitely not going to miss!
Our team will be waiting for you in the Green Hall at stand A11.
Packaging Innovations is a great opportunity for us to familiarise our repeat customers with our new products as well as to give all prospective customers an overview of our comprehensive product range.

Check out our trigger sprayers!
Our broad range of household chemical products, cleaning agents and professional chemical products includes a range of trigger sprayers, whose varieties can be customised to the requirements of your specific products by choosing the right type of material and the amount dosed, the type of secure closure, as well as the design, colour and finish.
There are also some new kids on the block that we would love to show you: our Dual Shroud trigger sprayers and foam trigger sprayers in a matte finish!

We've got what cosmetics businesses need!
Our range of closures will knock your socks off! At the upcoming trade fair we will do our best to run you through them.
If you are looking for a closure for your body care or hair care cosmetics, we will be delighted to recommend a convenient and effective solution – a flip top, a disc top or a suitable variety of the latter, included ones upgraded with premium materials, such as wood.
If instead your product requires a mini trigger closure, which is perfect for sunblocks, refreshing body sprays or insect repellents, we are ready to take on the challenge and suggest a product you'll love.
We are often asked to deliver an optimal closure for bottles or containers with oily contents or pharmaceuticals – and this is when we recommend a mist sprayer. The sheer variety of this type of product offered by Polpak, both in terms of dose size and design, enables us to find you a mist sprayer that will not only ensure your product is securely closed within its packaging but will enhance its dispensing precision.

At our stand you will also find airless packaging products and jars for cosmetics. Their range of sizes and features as well as the long list of their practical applications may make them just the solution you've been looking for – or may inspire you to create an entirely new product. Our jars and airless packaging products ultimately end up being used for so-called "white" - or organic - bodycare cosmetics, but also for some food products.


Be green, just like us!
Being "green" is not a fashion or a momentary trend everyone is going to forget by the end of this year. Being "green" is a lifestyle, a change in how one perceives everyday life and a decision to take responsibility for our planet.
At Polpak, we are far from indifferent as to how our products can be recycled. We never flag in our efforts to maximise the number of recyclable products we offer.
If your business is a "green" one too, please let us recommend closures or entire packaging products which won't be a burden on the environment after the consumer has used them up.

Over the course of the two days of the trade fair, our sales team will be delighted to answer all your questions regarding the products we offer. We are waiting for you on 2nd and 3rd April at stand A11 in the Green Hall of the EXPO XXI exhibition and trade centre in Warsaw's Wola district at 12/14 Prądzyńskiego Street.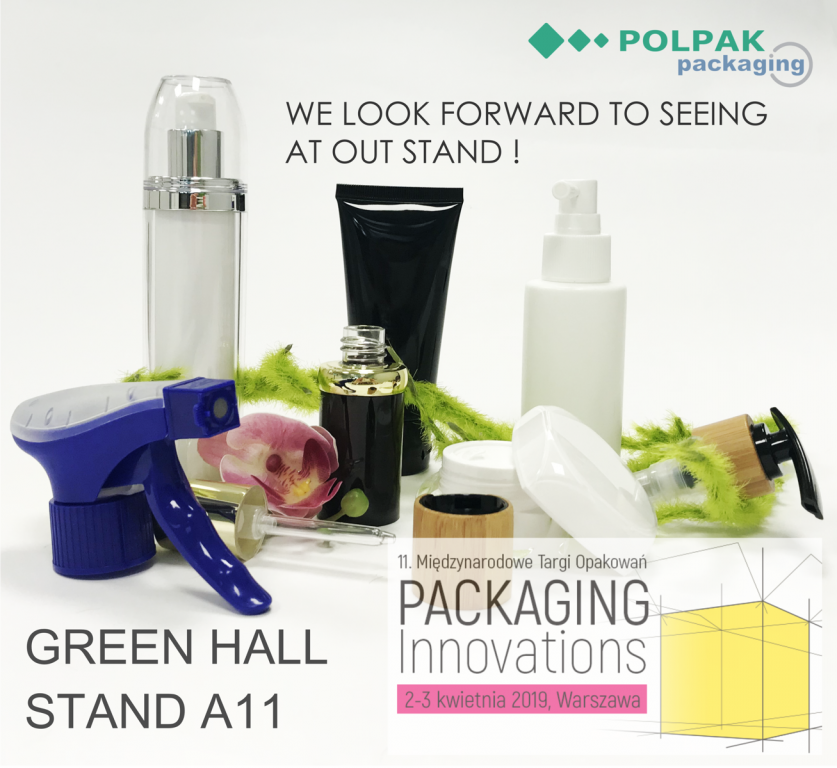 Other