How does physics play with head, heart and base notes?
2020-11-05
How does physics play with head, heart and base notes?
The history of the breakthrough inventions shows that scientists from different places researched a phenomenon or worked on a specific project at the same time, and then announced their revolutionary findings virtually simultaneously. Frequent disputes and legal proceedings quite often remain unsettled and the legitimate inventor remains uncrowned. The most famous invention feud took place between Elish Gray and Alexander Graham Bell. Both men claimed they were first to invent the telephone. Years later it was Bell who finally won the battle.
According to a theory, the evolution comes to a point where an invention becomes the humanity's natural necessity. Another argument is that certain times have a specific intellectual climate which encourages working on a given solution.
Now let's focus on our industry branch and discuss the history of atomizers which were introduced in different places in the world, merely few months apart.

Atomizer fathers – two official, other anonymous…
The first official inventor of the atomizer was the American doctor Allen DeVilbiss who wanted to spray precise dosages of medicine to the back of his patients' throats. This was the reason why the doctor worked on the pharmaceutical sprayer which he then patented in 1888.
Frank Stanley, on the other hand, had a completely different motivation. He wanted to invent a tool that would facilitate fast, even and economic application of wall paint. In 1876 he took his invention, today known as airbrush, and reported it to the Patent Office. Both men worked in USA and both men knew that if their invention found its way to the perfume business, they would gain recognition and earn money.

The old continent surprised everyone in 1878 at Paris Exposition Universalle. Then brands such as Guerlain, Caron, Lubin or Molinard presented their perfumes with mist sprayers. Hence, one can assume that European inventors had started working on them from the early 1800s.
At first there were two types of atomizer nozzles on the market. One was the up and down pump – the same system is used in bicycle or air mattress pumps. The second model was the one with rubber ball, which can be often observed in classic movies when used by ladies to spray perfumes.
The modern atomizer nozzles that we use today were introduced a bit later. They were improved and now they are more reliable, simple in use and smaller, thus handier than their predecessors.

One thing is sure – laws of physics rule the world!
For most of us, mere mortals, physics is far from easy as pie. We use its laws at every step – literally, as it allows us to take these steps. Nevertheless, understanding the rules and forces governing this field of study is quite difficult. One of the laws which makes our lives more convenient is the Venturi effect, the result of extensive studies and experiments conducted by the Italian physicist Giovanni Battista Venturi. When he worked on this law in the 18th century, he surely wasn't aware of the fact that his efforts would contribute to so many modern devices. Venturi discovered that when fluid or gas flows through a pipe with a constricted section, the fluid's pressure is lower than in sections before and after the constriction. As a result, it is possible to eject a dose of given material without applying intricate mechanisms.

Why is it so important?
All inventions play certain roles. Why are we discussing the atomizers?
What did this invention mean and how did it change the cosmetics industry?
It not only enables easier application of perfumes and control over the amount of dosage, but it also protects the precious contents against external factors.
Even today, although mist sprayers are widely accessible, some perfume products are closed with caps or stoppers which do not guarantee proper protection against external factors. They are most often used in two types of products. Firstly, in perfume samples, which are very small and quickly used. And secondly, in cologne, which is relatively cheap, quickly used and one application requires pouring a substantial amount of product.

However, when such closures are used in eau de parfum and parfum, they destroy fragrance quality. When in contact with air or human skin touching the bottle's opening, essential oils start to spoil. Airtight closure with a mist sprayer keeps all external factors at bay and blocks any chemical reactions.
Creating a perfume collection, even a small one, involves a lot of money, however, it is more about its owner pride and joy. It would be a nasty experience to smell a spoiled product, when one expected to be charmed by their favourite fragrance.

Not only perfumes!
Although in the beginning the mist sprayers were mainly used in perfumes, today they can be also found in many different types of cosmetic and pharmaceutical products: face mists, sun oils, hair conditioners, air fresheners or recently popular (unfortunately) hand sanitisers.

Our offer includes cosmetic, perfume and pharmaceutical mist sprayers!

Please check our wide range of products!


Do you like our texts?
Perhaps even so much that you want to use them in your own media? Then please get in touch with us beforehand!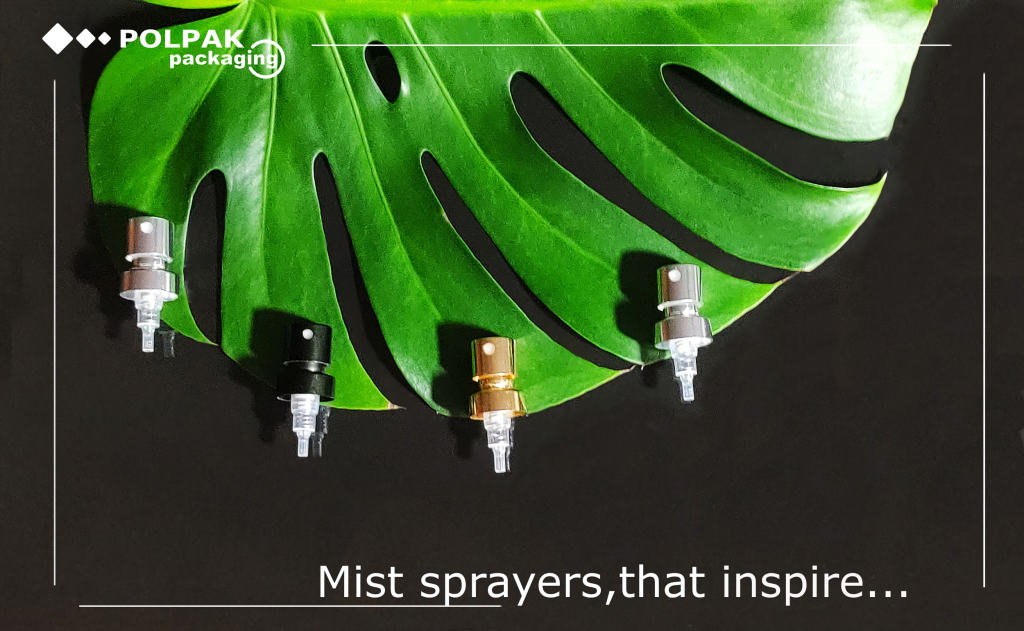 Other