Danish Beauty Award 2017 - packaging and cosmetics nominated for an award!!!
2017-08-24
A gentle mousse for face cleansing of a Danish company Faaborg Pharma is a perfect example of a packaging perfectly matched with the cosmetic. The product is packed in a small bottle with a foaming pump with silicone brush from the offer of Polpak Packaging. Thanks to this pump the consumer can make the most of the cleansing properties of the cosmetic. The product helps to remove make-up, dead skin and other impurities from the surface of the skin. The silicone brush helps to, for example, clean thoroughly the clogged pores, enhancing the micro-circulation in deeper layers of the skin. Thanks to this solution the skin is stimulated to regenerate, perfectly cleaned and prepared for further treatment. It is worth noting that the product has received the certificate of a cosmetic for persons suffering from allergies ("Allergy Certified") and the nomination for the award in prestigious contests: Danish Beauty Awards 2017 and Allergy Award 2017. The cosmetic was nominated in two categories: "Danish product of the year" and "Female skin-friendly product".
We wish to congratulate our client and we are glad that our silicone brush has had so much success in this project.
Do not hesitate to contact us!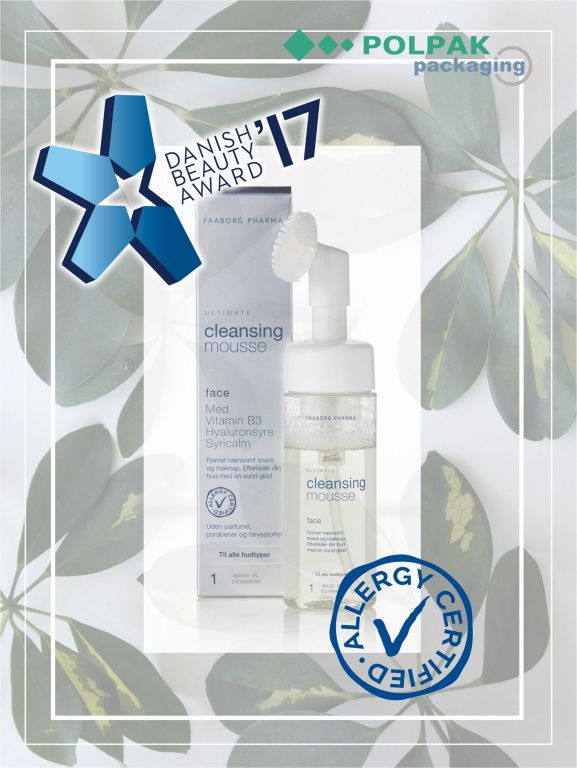 Other