A new initiative on the map of the Polish packaging industry – Creative Packaging Group Cluster.
2023-07-27
Last year our company celebrated its 30th anniversary.
It's an age at which brave actions should be taken!
And that was the case!
Together with Pablo, a machine manufacturer, and Mitsubishi Electric we've established Creative Packaging Group Cluster.

The packaging industry has touchpoints will nearly each branch of the economy. No matter whether the production involves food, drink, cosmetics, footwear or TV sets, everything must be packaged!
Packaging is a challenge and responsibility. It must be safe and secure!
Its manufacturing requires knowledge of technological nuances and the use of top quality components.
It isn't really praiseworthy that the packaging industry uses materials that are considered to be environmentally unfriendly, which is why new and increasingly strict restrictions are imposed on them, requiring the highest safety standards and the smallest ecological footprint to be maintained.
The role of machine manufacturers and packaging suppliers, but also all sub-suppliers for the industry, is to find the golden means.
In order to achieve safety and meet environmental challenges, we need to know each other, those who supply the pellets, but also those who equip our plants with automation solutions,
those who know the food packaging regulations perfectly, as well as those
who are able to safely pack and transport the entire production line.

The cluster becomes a place where we get to know all the components of the industry, in whose narrow section each of us operates.
The cluster is also a place where we can learn technological innovations, discuss legal changes together, and, eventually, influence the legislative process.
The cluster also offers new opportunities for promoting the company as a separate entity and as a member of a strong group.

Over the last six months we've managed to win over a varied groups of representatives of the packaging industry – here, everybody who is with us.
We, that is the CPG Cluster's founders, have convinced representatives of Kielce Trade Fair, Ptak Warsaw Expo and Koszalin Technical University. Such support and backup in the form of experts is extremely valuable for a young organization made up of experienced companies.

Our role in the newly-established structure is to take advantage of our experience, and pass it on to others. Although we feel confident in this environment, we also know that the 21st century's dynamism doesn't allow us to rest on our laurels, and following trends is often more important than cherishing traditions.
We're sure that the CPG Cluster will be a great opportunity to learn and take on new challenges.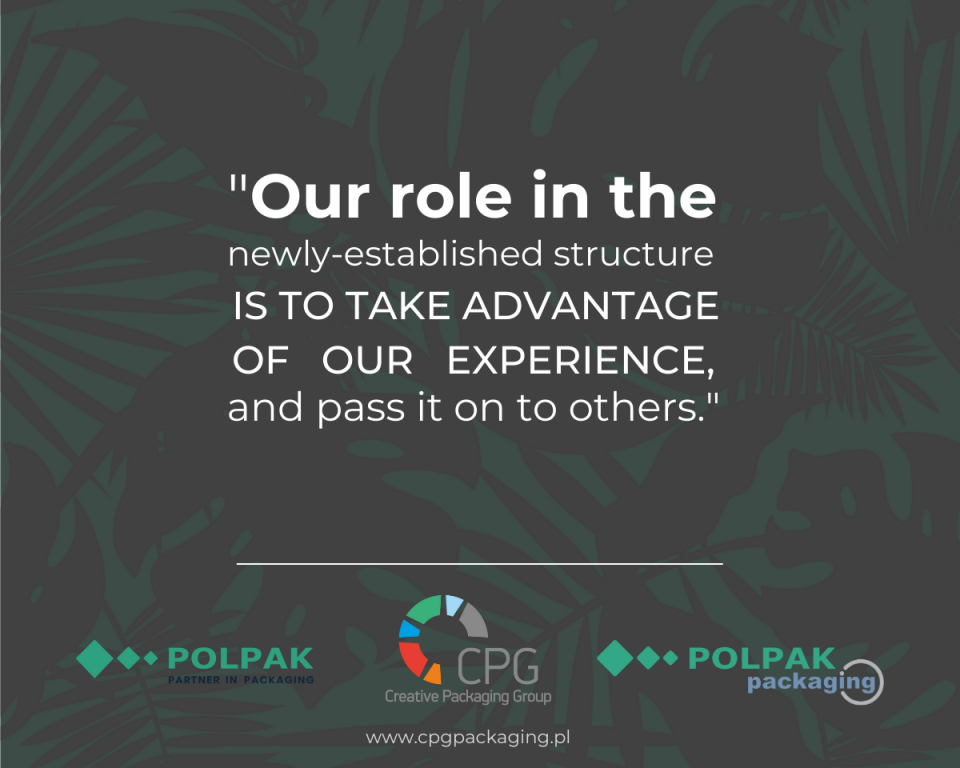 Other